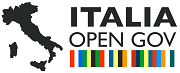 The Italian government presented the third Action Plan under theOpen Government Partnerships.
Fondazione Etica participated in the OPG Forum, working at the table on Accountability and at the one on Transparency.
This was the his proposal inside the Forums which supported the Ministry of Public Administration in the preparation of the aforementioned Plan.