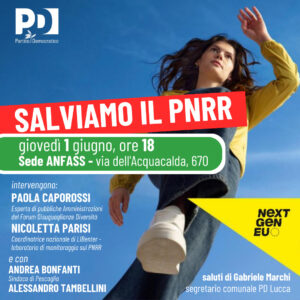 The debate on compliance with the commitments made by the Italian government towards Europe is very heated.
On the 1st of June, Paola Caporossi will speak in Lucca, on behalf of Forum Disuguaglianze Diversità, to reflect on how the administrative capacity of the Municipalities constitutes the indispensable premise for the success of the PNRR.
Nicoletta Parisi, national coordinator of LIBenter, the PNRR monitoring laboratory, promoted by Fondazione Etica, Università Cattolica e Libera, will also participate.